CHALCOGENIDE PHOTOVOLTAICS
Atomic layer deposition techniques can be used to deposit thin film chalcogenide materials.
Chalcogenide materials for photovoltaics applications have been explored for the absorber materials where bandgap energies are better suited to achieve higher levels of efficiency ( 31 - 34% efficiency at 1-1.6 eV). Quaternary films can be deposited using ALD techniques, including copper zinc tin sulfide (CZTS). ALD deposited materials can also be used for fabricated buffer / emitter materials (In2S3, ZnS, CdS, and Zn(O,S)).
ENERGY STORAGE
ALD deposited films have been investigated in energy storage and battery applications with demonstrated levels of improved performance.
Cu2S / carbon nano-tubes (CNT) cathodes @260 mA h g-1
Li2S @ 800 mA h g-1
PHOTONICS
Chalcogenide materials have also been used in the photonic and solar applications.
ZnS for TFEL displays (first ALD industrial application)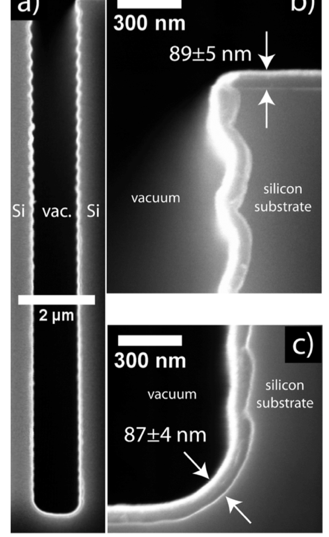 Cu2S / SnS2 / ZnS trilayer deposited on a silicon trench wafer
Ref: Thimsen et al. , Chemistry of Materials, 24(16), 3188–3196 (2012)